Providing septic tank emptying to commercial premises including hotels, conference facilities and industrial estates - Charles Maiden Waste Disposal provide a Scheduled and Emergency Septic Tank Emptying service.
With a modern fleet of specialist vehicles C. Maiden Waste Disposal have been providing a professional septic tank emptying service for commercial buildings and large estates throughout Herefordshire, Worcestershire and south Shropshire.
C. Maiden - Licensed by the Environmental Agency for the disposal of sewage waste.
Commercial Septic Tank Emptying
Scheduled Septic Tank Emptying
Licensed Waste Carrier
Emergency Septic Tank Emptied
Own Sewage Treatment Plant
Treatment Plants Cleaned & Emptied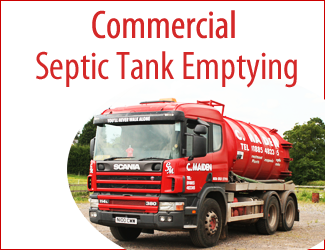 You can rest assured that the waste collected from your commercial septic tank is disposed of correctly and in accordance with the law. Waste collected by Charles Maiden Waste Disposal is processed at their own Sewage Treatment Plant at Bromyard in Herefordshire.
Charles Maiden Waste Disposal staff are fully trained to ensure that your septic tank is emptied in a clean and efficient manner.
To empty your commercial septic tank contact Charles Maiden Waste Disposal Services - Bromyard Herefordshire on 01885 482305.