Domestic Septic Tank Emptying
Charles Maiden Waste Disposal Services of Bromyard, Herefordshire provide householders with a Professional Septic Tank Emptying Service throughout Herefordshire, south Shropshire and Worcestershire.
Ensure that your septic tank operates efficiently – Charles Maiden Waste Disposal Services can provide both an annual and scheduled septic tank emptying service thus reducing the risk of overflow, leaks and blockages to your effluent system.
An emergency septic tank emptying service is available 7 days a week.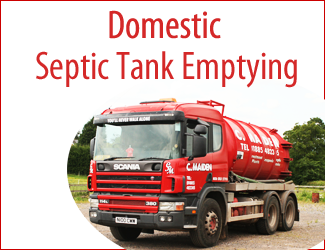 Licensed by the Environmental Agency for the disposal of sewage waste, C. Maiden Waste Disposal operate a fleet of modern specialist vehicles with staff that are fully trained to ensure that your septic tank is emptied quickly and efficiently in a safe and clean process.
Domestic Septic Tank Emptying

Emergency Septic Tank Emptied

Scheduled Septic Tank Emptying

Licensed Waste Carrier
Own Sewage Treatment Plant
Professional & Courteous Staff
You can rest assured that the waste collected from your domestic septic tank is disposed of correctly and in accordance with the law. Waste collected by Charles Maiden Waste Disposal is processed at their own Sewage Treatment Plant at Bromyard in Herefordshire.
For scheduled and emergency septic tank emptying contact Charles Maiden Waste Disposal - Domestic Septic Tank Emptying in Herefordshire, Shropshire and Worcestershire